Supports Your Workflow – ADAPT's Solutions are designed to meet your estate planning workflow requirements and can easily be adapted as your needs change.
Each of our products are designed to support the workflow that works the way you prefer to work with your clients.  Whether you wish to work independently in the case of our EP Drafter or allow for all or partial direct client input in the case of our EP Planner, our systems support multiple work styles and customizations.
Whether you want to fully automate the client intake and interview process or prefer to oversee the input process and document creation directly, ADAPT allows you to work the way you want.   Depending on your subscription you can choose among a number of workstyles in how you wish to collaborate with a particular client or all of your clients.  You fully control the way you want to interact with clients thru our solutions.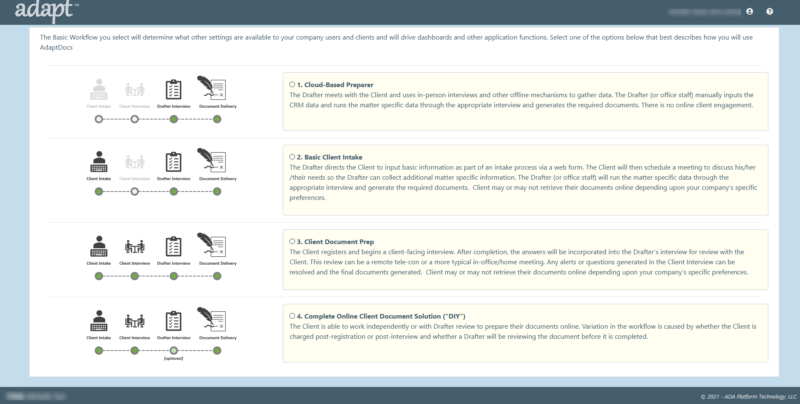 If you are a document preparer you can totally automate document creation so that prospective clients can prepare documents for purchase or for legal review.
If you are an estate planner who discusses the planning needs and options with your clients in person you can limit the client intake process and conduct more in-depth interviews and planning before you or your staff complete the document interview.
Either way our system is designed to support you!
ADAPT's products are easy to set up and modify so as your practice changes – it can change.
For example – If you want to accommodate different types of client interactions you can either administer it through your website to accommodate self-service clients as well as meet with full-service clients in person and then complete the interviews to generate more refined documents on your own.
Client contact and intake, prequalification questions, and specific client interviews geared around the documents being created can either be set to allow for either your client's or your firm's input.
And ADAPT's new Questionnaire Editor gives you complete control over the Questionnaire.  You can either use the pro forma questionnaire included with the system or customize it as much or as little as you want including what questions are included, required, and even specific wording – you have extensive control over your user experience.
You control the process fully.