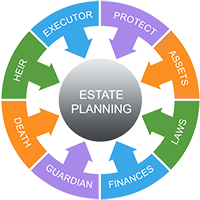 Thorough & Accurate Documents
– ADAPT's cloud-based document sets are among the most comprehensive and are the document set of choice for 1000's of estate planning professionals.  Using the same document templates used by Fore! Trust Software they are state specific, accurate and up to date.
Depending upon your ADAPT subscription the following document sets are provided and, if you would like to implement thru a website, can be offered and priced separately on your site giving you the ability to deliver a wide range of packaging and service options.  Within cloud-based solution you are in control of the pricing and services that you offer to your clients. Clients do not have immediate access to their completed documents. You also have the ability to choose how the clients documents are delivered to them.
You can provide clients with a client interview designed for use with a number of different Document Packages that are available across our cloud-based solutions. You can choose to offer and price each Document Package independently either for an individual or a couple – giving you maximum flexibility over how you chose to manage your drafting services. Also, you have direct access to a number of additional document templates that are essential in a Wills and Trusts/Estate Planning practice.
Client Facing Interview
Attorney/Preparer Interview
Revocable Trust Package*
Revocable Trust Package*
Will Package*
Will Package*
Will Only
Will Only
Powers Package**
Powers Package**
Irrevocable Trusts***
(Including Medicaid and/or VA Planning Trusts, Gift Trusts (Educational and Spendthrift), Special Needs Trusts, Intentionally Defective Grantor Trusts, GRATs, ILITs, QPRTs, Charitable Remainder Trusts, Charitable Lead Trusts, and Foundation/Endowment Trusts)
Transfer and Funding After the RLT
(including Transfer Documents,
Transfer on Death Deeds, Updated Schedule A)
Estate Plan Amendments/Modifications
(including Amendment of the RLT,
Codicil, Amendment of a SNT)
Affidavits of Death
(for Joint Tenant, Trustee or Co-Trustee)
Miscellaneous Estate Planning Documents
(including Minor's POA and HCPOA,
Adult Dependent's POA and HCPOA,
Visitation Authorization, Dementia Directive, Revocation of RLT,
Revocation of Trustee, Revocation of POA,
Appointment of Trust Protector, Resignation of Trustee)
Correspondence
(including Closing Letters, Billing Statement and
various correspondence)
† Special Purpose Trusts
(including Realty "Land" Trusts, IRA Beneficiary Trusts, and NFA Gun Trusts))
† These documents are not available in EP Drafter solution.
*Individual packages are used to create one set of forms (whether it's for a will, trust, etc.) whereas the married packages create parallel or reciprocal sets of forms that can be independently modified.
** The powers package is a combined package that allows users to produce a state specific version of any or all of the following: General Power of Attorney, Health Care Power of Attorney and Living Will, Stand-alone HIPPA Waiver and Final Disposition Instructions Forms.
***Irrevocable Trust Documents – COMING SOON! in EP Professional